A luxury house typically refers to a high-end, upscale residential property that offers an extensive range of luxurious features and amenities. Luxury House Elevation These houses are often characterized by their spaciousness, architectural design, premium finishes, and state-of-the-art technology. Here are some common features you might find in a luxury house:
Size and Space: Luxury houses are often large, offering ample living space both indoors and outdoors. They may have multiple floors, expansive rooms, and generous square footage.
Advanced Technology: Luxury houses Elevation often incorporate smart home technology, allowing homeowners to control various aspects of their property with ease. This may include automated lighting, climate control, security systems, and entertainment systems.
Privacy and Security: Luxury houses often prioritize privacy and security, with features such as gated entrances, security systems, and advanced surveillance technology.
High-End Amenities: Luxury houses may include amenities like home theaters, fitness centers, wine cellars, private libraries, spa-like bathrooms, and game rooms. These amenities are designed to enhance the residents' lifestyle and provide ultimate comfort and entertainment.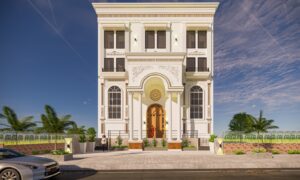 Symmetry: Classical architecture often emphasizes balance and symmetry in its design. Facades are typically organized around a central axis, with elements on one side mirroring those on the other.
Columns and Porticos: Classical exteriors often feature columns, particularly the Doric, Ionic, and Corinthian orders. These columns can be used as structural supports or purely decorative elements. Porticos, which are covered entrance areas supported by columns, are also common in classical design.
Pediments: Pediments are triangular structures that sit atop a portico or entrance, often adorned with decorative details such as sculptures or reliefs. They add a sense of grandeur and elegance to the façade.
Pilasters: Pilasters are shallow, rectangular columns or projections that are often used to create a sense of verticality and rhythm on the exterior walls of classical buildings. They can be purely decorative or serve a structural purpose.
Symmetrical Windows and Doors: Classical exteriors typically have symmetrical arrangements of windows and doors. These openings are often framed with decorative moldings and pediments to add visual interest.
Roofline: Classical buildings tend to have simple and pitched rooflines, often with gabled ends. The roof might feature decorative elements like cornices or friezes.
Ornamentation: Classical exteriors often incorporate decorative elements such as friezes, cornices, dentil moldings, and elaborate window surrounds. These details add refinement and elegance to the overall design.
Materials: Classical exteriors can be constructed using various materials, including stone, brick, stucco, or a combination of these. The choice of material often depends on the specific architectural style and regional influences.
Some notable classical architectural styles include Greek Revival, Neoclassical, Palladian, and Georgian, each with its own distinct features and influences. It's important to note that classical exterior design can be adapted to suit different scales, from grand mansions to smaller residences or commercial buildings.
If you're considering a classical exterior design for your home, it's advisable to consult with an architect or designer who specializes in classical architecture to ensure authenticity and attention to detail.
1.What defines a luxury house?
A luxury house is typically characterized by its high-quality construction, superior design, and premium amenities. It often features spacious rooms, upscale finishes, state-of-the-art technology, and luxurious materials throughout. Additionally, luxury houses are usually located in desirable neighborhoods or exclusive locations, offering privacy and stunning views.
2. What are some common features of luxury houses?
Luxury houses often include features such as gourmet kitchens with top-of-the-line appliances, expansive master suites with luxurious bathrooms and walk-in closets, high ceilings, grand entrances, large outdoor living spaces with swimming pools or spas, home automation systems, home theaters, wine cellars, fitness centers, and in some cases, private tennis courts or golf courses.