14 by 45 house plan Map includes interior information. The 630 sq. ft. South facing home plan is available for download as a pdf file. अगर आप किसी भी प्रकार का प्लान बनवाना चाहते है , तो आप हमसे संपर्क कर सकते हो Using WhatsApp massage 7400118603.
Table of Contents
14 by 45 में दो Floor Plan दिए गए है एक Ground Floor Plan और First Floor Plan
Ground Floor Plan
Stair
Toilet
Bath
Kitchen
Lobby
Puja Room
Bedroom
Jaal
First Floor Plan
Seating Area in Lobby
Bath+Toilet Attached
Balcony
Open Space For Good Ventilation
Bedroom
14 by 45 House Plan Map Description
14×45 Home Plan-630 sq ft house Floor plan
Project Description : Make My House offers a wide range of Readymade House plans at affordable price. This plan is designed for 14×45 East Facing Plot having built-up area – 630 Sq FT with Modern Floorplan for Duplex House.
Plan Description
Plot Area 630 sq ft
Cost Moderate
Width 14 Feet
Length 45 Feet
Building Type Residential
Building Category house
Style Modern
Estimated cost of construction 12 – 17 Lacs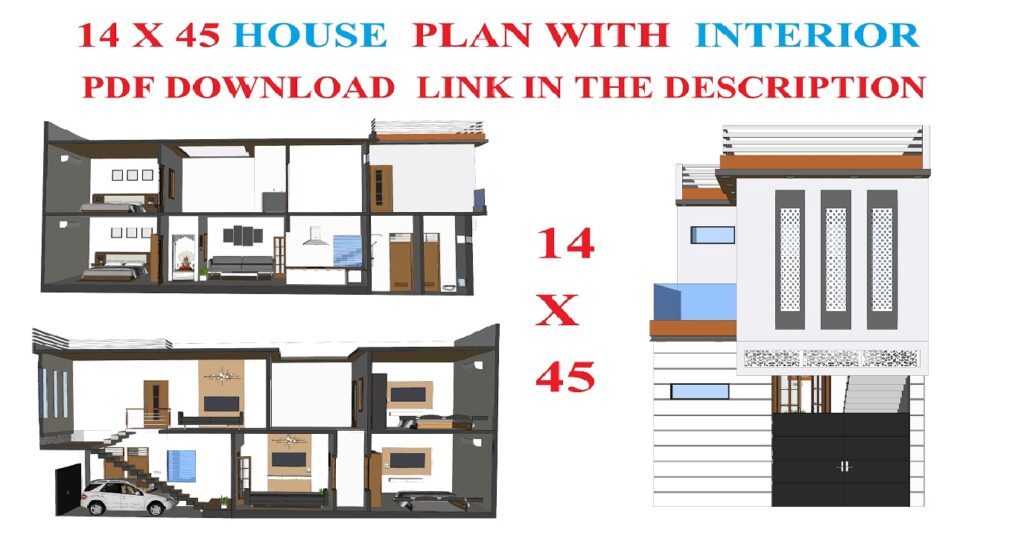 14 से 45 तक घर का नक्शा बनाने के लिए सिर्फ 1200 रुपये प्रति मंजिल का प्लान मिलेगा। आपको पहले एक पेज बनाकर प्लाट का आकार और दिशा हमारे WhatsApp नंबर (740011803) पर भेजना होगा। नक्शा बनवाने से पहले आधी राशि का भुगतान किया जाएगा। तब हम एक योजना बनाकर आपको भेजेंगे, जिसे भेजने के बाद आप दो बदलाव कर सकते हैं. धन्यवाद।
14 by 45 House Plan Map आप इस प्लान को वीडियो के माध्यम से समझ सकते है
अगर आप 14 by 45 House Map PDF फाइल Download करना चाहते है तो Link पर क्लिक करे
14 by 45 House Plan Map Click Hare
14X45 house plan ground floor and first floor with interior PDF Detail
Ground Floor
1.Bedroom
2.puja room
3.Lobby
4.Kitchen
5.Good Ventilation
6.Bath
7.Toilet
8.Porch
First Floor
Bath
2.Seating Area in front
3.lobby
4.open space
5.jaal
6.Bedroom With Good Ventilation
Contact Us:
navneetmehta246@gmail.com
7400118603
अगर आपको pdf डाउनलोड मैं कोई भी दिकत आ रही तो आप हमसे सम्पर्क कर सकते है | किर्प्या कमेंट में अपनी राये दे आपको ये हमारा प्लान कैसा लगा ताकि मैं इसे और भी बेहतर बना सकु |
3D House Naksha for 3D Models, Animations, architects, and designers. Hello 🤝 friends I am Mr. Navneet Kumar INDIA which will help a lot in building your house Disclaimer: -I am uploading these Post just to give you an idea, These drawings are made just to give an idea and not to challenge anyone. I will give you just a proposal drawing. All idea mentioned in the video is to help people only. Any Queries 💬 Comment me
हमारे यहाँ पर हर तरह के घर के नक़्शे बनाये जाते है ,और फ्री सलाह दी जाती है हमारी टीम हमेशा आपकी मदद के लिए हाज़िर रहेगी .
More House Plan
2. 15×60 House Plan with car Parking
FAQ.
14*45 house plan ground floor
14*45 house plan with car parking
14 x 45 house elevation
15 feet by 45 feet House design
14′ x 46 house plans